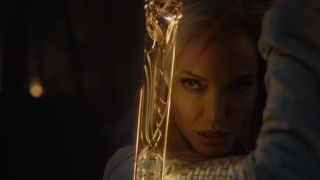 (Image credit: Disney)

Eternals is the next Marvel movie to hit the big screen, landing this November. So far it's a bit of a mystery, though two trailers have clued us in on what we'll be seeing later this year. The titular ancient superheroes will be going up against the sinister Deviants, and attempting to stop the emergence – though what exactly that is remains to be seen.
Chloé Zhao, the Oscar-winning Nomadland helmer, is directing the movie, which is the third film in Marvel Phase 4, following Black Widow and Shang-Chi and the Legend of the Ten Rings.
We've rounded up absolutely everything we know about the film so far, including who's who in the cast, all that's out there about the plot, and the lowdown on both trailers. Then we've got some exclusive quotes from our sister publication Total Film from the cast and Zhao, as well as some brand new images. Scroll to see everything you could possibly want to know about Eternals.
The Eternals release date
Eternals was intended to be the second Phase 4 movie. However, due to the coronavirus pandemic, the whole release schedule was torn up, and Eternals will now come after Black Widow and Shang-Chi and the Legend of the Ten Rings. That makes the Eternals release date November 5, 2021. 
Eternals was first due to arrive in cinemas in November 2020 slot, but was initially pushed back to February 2021, taking Shang-Chi's original release slot. However, as the pandemic continued and Black Widow was moved again, to May 2021 and then to July 2021, Eternals found itself at its current November slot.
We're sure the wait will be worth it. In fact, director Chloé Zhao has promised as much, saying Eternals will attempt to top Endgame in scope. 
"How much further and bigger can we go after [Avengers:] Endgame?" asked Zhao during a THR interview, before adding. "Because I'm not just making the film as a director. I'm making the film as a fan."
With the release date changes, filming on Eternals actually finished back in 2019. Salma Hyek said of the experience with Entertainment Tonight: "I think it definitely has its own DNA within the Marvel universe. It is different. It was directed by a woman and we didn't do most of the things in the studio. They're real locations which is unusual for Marvel. I'm very excited about the film, it definitely has this special vibe to it that is unique. I'm really excited about it and I love my character and I love the cast."
Eternals will also be a theatrical exclusive, which means no Disney Plus Premier Access.
Eternals trailer
In the first Eternals teaser, we learn that the titular ancient superhero team has held off from directly interfering in human history throughout the years – but it seems something has happened to change that – perhaps the Thanos snap brought them back, or something more horrible awaits. Although the trailer doesn't give much away, it does show off the star-studded cast. There's also plenty of action, and there's even a reference to two familiar former Avengers right at the end of the clip.
The final trailer has also been released, which tees up the next big threat after Thanos. In the footage, Gemma Chan's Sersi explains to Kit Harington's Dane Whitman that the Eternals didn't step in to prevent Thanos because they only handle the Deviants, and there are several moments in the trailer where we see the new heroes fighting these sinister, monstrous creatures. There's a look at two Celestials, too – towering cosmic beings who told the Eternals not to interfere in human affairs.
Salma Hayek's Ajak also reveals the next big threat: the emergence has been given enough energy in the wake of the Avengers undoing the Blip in Endgame, though what exactly that means remains a mystery. What's clear is they only have seven days to prevent disaster, though. We also see a Deviant, confirmed by Marvel.com to be Kro, telling Angelina Jolie's Thena that she "can't protect any of them."
We got our first official glimpse of Eternals during a Marvel Studios compilation video called Marvel Studios Celebrates the Movies, which you can watch below.
The Eternals footage begins with a look at Salma Hayek, who plays Ajak, the spiritual leader of the Eternals. "When you love something, you fight for it," Ajak says as we see several of the Eternals assemble, including Richard Madden's Ikaris, Kumail Nanjiani's Kingo, Gemma Chan's Sersi, and Angelina Jolie's Thena. We even get a good look at Thena's sword, which she can form out of cosmic energy. 
Eternals cast
Marvel's newest super-team is full of big names, and equally, some promising newcomers. Angelina Jolie will play the warrior Thena, and Game of Thrones' Richard Madden will step into the role of Ikaris. Meanwhile, Kumail Nanjiani is Kingo, a master swordsman and Bollywood film star; Brian Tyree Henry is the inventor Phastos; Train to Busan's Don Lee is Gilgamesh, and Barry Keoghan is Druig.
Playing her second role in the MCU following Captain Marvel's Minn-Erva, Gemma Chan is playing the Eternal Sersi alongside Salma Hayek's Ajak and Kit Harrington's Black Knight. Big cast, right? And this doesn't even include the Eternal's enemies, the Deviants, for which there is no casting news just yet.
Nanjiani has said of the diverse call sheet: "I was on set shooting, and the director showed me just a still of all of us together in the scene… We all look so different. You don't ever get to see people like this together in the same room, let alone in awesome superhero costumes." The actor added that it will be "the most epic of all the Marvel movies."
Salma Hayek also spoke on her excitement to GamesRadar+ sister publication, Total Film. "At 53 – finally! – I can be a superhero," the actress said. "I play Ajak, who is the leader of the superheroes and all of them are people you would never have imagined. Except for Angelina [Jolie]. Angelina – she was born to be a superhero!"
The Eternals story
The official synopsis for The Eternals reads: "Marvel Studios' The Eternals features an exciting new team of superheroes in the Marvel Cinematic Universe, ancient aliens who have been living on Earth in secret for thousands of years. Following the events of Avengers: Endgame, an unexpected tragedy forces them out of the shadows to reunite against mankind's most ancient enemy, The Deviants."
Wondering who on Earth The Deviants are? No problem: The Deviants, like The Eternals, were created by the Celestials and are, at their core, a dark version of our heroic Eternals. The two groups have come into conflict time and time again within the pages of Marvel Comics, and it seems they'll be bringing their disputes to Earth for Phase 4. For more details on who they are and their abilities, GamesRadar+ has your back; check out The Deviants explained.
We already have a million questions, of course. If The Eternals have been on earth for all this time, why didn't they step in and help in the fight against Thanos? Are they living a normal life here, with jobs and a family? And what "unexpected tragedy" will force them out of the shadows? Surely there isn't an event more tragic than Thanos' snap wiping out half of all living things…
If Kevin Feige and the MCU are to take inspiration from Neil Gaiman's limited run of The Eternals comics, they might find it easier to explain away these queries. In the series, the heroes' memories were erased by Sprite before Iron Man was even Iron Man, leaving them with no memory of being an ethereal race with powerful abilities. Thanos' appearance on Earth and the galaxy-shattering events of Endgame, however, may well awaken these dormant memories. Marvel has been sprinkling hints about The Eternals for years – a testament to their careful planning. In Avengers: Infinity War, Red Skull greets Thanos as the "Son of A'lars." A'lars is the leader of the Titan Eternals… see it all adding up yet?
Whenever the Eternals do embrace their superhero side, a merchandise leak has revealed our best look yet at what their costumes might look like. 
We also know a bit more about Gemma Chan's Sersi. Kevin Feige has said "if there was a lead in this ensemble, it is Sersi, it is Gemma Chan," and Chloé Zhao also spoke to Vogue UK about the character. "It has always been a passion for me to create a nuanced female superhero that is rarely seen in this genre," she said. "Gemma was very interested in this idea as well and took on the challenge. She brought a beautiful sense of gentleness, compassion and vulnerability to Sersi that I believe will invite viewers to rethink what it means to be heroic."
Chan herself added: "Sersi is not your typical superhero: she's not necessarily the best fighter, she doesn't have the most obviously impressive powers. The main thing is she's an empath." She continued: "She has a connection with humans, and with the world and the earth. That is her strength, so I leant into that."
As for Kit Harington's character, the actor told our sister publication Total film more about the role, explaining he's "the human character of the story. He's not an Eternal. He's a character who works with the Natural History Museum in London. But he's not an Eternal – that's the main takeaway!"
"I've got no idea whether my character goes on or not," he added. "I had read up on who he could be, or might be. So there's the possibility for a longer trajectory. And hopefully, I think this is the tip of the iceberg for my character. I hope. But I just don't know, you know? I'm as in the dark as anyone else. And I try not to live too far ahead in the future with anything. Even when I was in Game of Thrones, even on the sixth season, I presumed the seventh season wasn't going to happen!"
Director Chloé Zhao also spoke to us about the film. "I think we stand alone as a film for sure," she commented. "But I do think we will have a very big effect on the future of the MCU with what happens in this film. Which, you know, as a fan, is really satisfying for me! I geek out."
She also revealed that we'll know why the Eternals didn't step in to stop Thanos. "[The audience] will understand why," Zhao assured us. "Not only why, but how complicated not interfering made them feel. We explore that. You'll see that in the film. The Eternals were instructed not to interfere with any human conflict unless Deviants are involved. There's a reason why that's the case. And that was the instruction from the prime Celestial Arishem."
Zhao then spoke a bit about the ancient aspect to the movie. "What excited me is the idea of going back in time, and exploring [the time] before Thanos was born, before anyone was born," she said. "Where does the MCU go back in time? And that brings us to the mythology of the Celestials. Anything involving the Celestials is going to be at a huge scale level of complication, let's put it that way."
Total Film also debuted some exclusive images from the movie, which you can check out here.
Following the final chapter for The Avengers as we knew them in Endgame, the prospect of some god-like heroes being introduced alongside new mainstays like Captain Marvel and Spidey is an exciting one. Before that, though, we still have a small-screen adventure on Disney Plus for Hawkeye. Here's everything we know so far about the upcoming Marvel shows.
Eternals introduces Kro
Toy production for Eternals has been well underway for a while now, and a release date change does not immediately halt collectibles being made. As a result, a Marvel Legends figure has leaked, offering a first look at the villain Kro.
The leader of the Eternals-opposing Deviants in the comics, Kro has a sinewy, skeletal figure with a red mark on his forehead. His appearance differs from what readers may expect – in the comics, Kro is much more human and pink in colour. Perhaps darker, direction for the MCU's grandest movie yet?
The back of the packaging could also reveal a little more about the Eternals villain and the movie itself. Described as "a powerful Deviant unlike any other the Eternals has faced over the millenia," Kro showing up is "the harbinger for a global threat."
More merchandise has given us another look at the villain too, along with some Celestials, including Arishem the Judge. In the source material, Arishem has the power to destroy planets, so expect him to present a serious threat to the Eternals. 
First LGBTQ+ Marvel kiss to feature in Eternals
For those craving more love and swoon-worthy romance in the MCU (we're still not over Wanda and Vision either), Marvel has heard you loud and clear. Gemma Chan confirmed in an interview with Vanity Fair Italy that there will be plenty of romantic intrigue in The Eternals. 
"Specifically, it is the story of a group of immortal aliens, who arrived on Earth 7,000 years ago, so the plot takes place in a very long period of time," Chan said. "Sersi is the one that has the most affinity with humans,